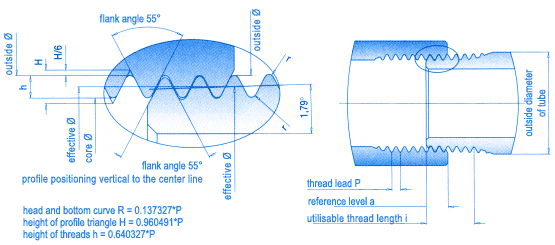 Thread
Whitworth-pipe thread acc. DIN 3858
Abbreviation
Rp R
Designation
DIN 3858-Rp-1/2
DIN 3858-R-1/2
Type of thread
inside thread cylindric
outside thread conical (cone 1:16)
Application
Pipe thread, to suit pipe thread connection with sealant (see pages 8 – 10) sealing in the threads.
Description
Threads acc. to this norm are used for pipe connections with conical screw-in plugs size C, which are to screw into cylindric screw-in holes size Z, both acc. to DIN 3852 part 2 (see page 8 – 10). The tolerance 1 acc. DIN 3853 with a ±position of the relating lever &147; relates to DIN 3852 part 2.
Comparison with DIN 2999
The conical outside thread and the cylindric inside thread of this norm show the same dimensions of the diameters and of the thread profile as the threads acc. DIN 2999, however the conical outside thread shows a shorter usable length of the ithreads &147;. The cylindric inside thread shows concerning the outside-, effective and core diameter positive dimensions only (at DIN 2999 ±tolerance) offering a max. screw-in of the conical outside threads.
Comparison with DIN/ISO 228
The cylindric inside thread of this norm shows the same thread profile as the cylindric inside thread acc. DIN/ISO 228, however with a clearly smaller core diameter tolerance, which leads to a smaller free space between the crest of threads and in the same way to a smaller leakage space.
| external thread R | internal thread Rp | number of threads | P | h | outside Ø | effective Ø | core Ø | a | i |
| --- | --- | --- | --- | --- | --- | --- | --- | --- | --- |
| R 1/8" | Rp 1/8" | 28 | 0.907 | 0.581 | 9.728 | 9.147 | 8.566 | 3 | 5.5 |
| R 1/4" | Rp 1/4" | 19 | 1.337 | 0.856 | 13.157 | 12.301 | 11.445 | 4.5 | 8.2 |
| R 3/8" | Rp 3/8" | 19 | 1.337 | 0.856 | 16.662 | 15.806 | 14.95 | 4.5 | 8.2 |
| R 1/2" | Rp 1/2" | 14 | 1.814 | 1.162 | 20.955 | 19.793 | 18.631 | 5 | 10 |
| R 3/4" | Rp 3/4" | 14 | 1.814 | 1.162 | 26.441 | 25.279 | 24.117 | 6 | 11 |
| R 1" | Rp 1" | 11 | 2.309 | 1.479 | 33.249 | 31.77 | 30.291 | 7 | 13.4 |
| R 1 1/4" | Rp 1 1/4" | 11 | 2.309 | 1.479 | 41.91 | 40.431 | 38.952 | 7.5 | 13.9 |
| R 1 1/2" | Rp 1 1/2" | 11 | 2.309 | 1.479 | 47.803 | 46.324 | 44.845 | 7.5 | 13.9 |